Curriculum
EVERY KID STARTS OUT AS A NATURAL-BORN SCIENTIST
Art
Our visual arts program fosters a welcoming learning environment in order to make art class a positive experience for all students. The students learn about the Elements of Art and Principles of Design through a variety of art projects and sketchbook activities while also improving their skills with different media. They learn the characteristics of the visual arts by using a wide range of subject matter, symbols, meaningful images, and visual expressions. The students' hard work is showcased at our yearly Night of the Arts show. The Night of the Arts is an opportunity for our community to gather and celebrate the talent of our school's visual and performing artists.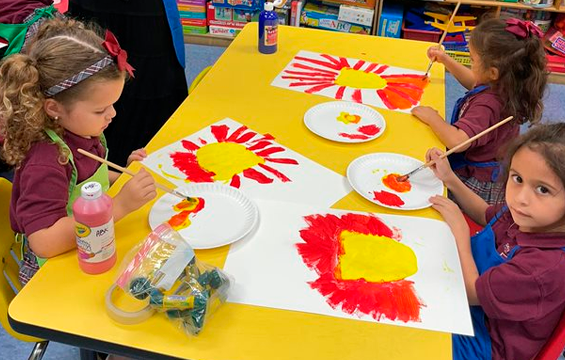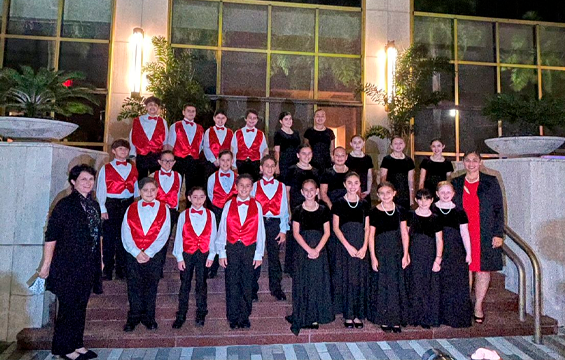 Choir
Here at St. Timothy, all are welcome to praise the Lord in song! Students in 3rd through 5th grades begin their choral journey in Trojan choir, where they sing mainly in the school's weekly Masses and special events, such as the Christmas concert and Night of the Arts.
Students in 6th through 8th grades continue to hone their craft by representing our school in competitive events, such as the Merrick Festival Caroling Competition and FVA district evaluations, as well as participating in special liturgies throughout the year.
All students are encouraged to take an active role in worship, alternating as Psalmists and cantors as early as 4th grade. Both choirs are entirely voluntary, and jointly led by our music teacher, Ella Carr, a veteran music educator with degrees in Music Education curriculum and Choral Conducting, in collaboration with the parish Music Minister, Ms. Ana Villazón, a lifelong Catholic church musician and liturgist. For more information, please email Ms. Carr at ecarr@sttimothymiami.org.
General Music
The primary goal of a general music program is to instill a lifelong love of music through singing, dancing, performing, and listening to music from all over the world. As Catholic educators, we take that a step further by making music another way to grow in fellowship with our community and profess our love and commitment to the Lord.
Each lesson has a performance aspect, as well as a written component to strengthen their musical literacy. Musical literacy is proven to increase reading fluency, critical thinking skills, and even math skills! Students sing, move, play classroom instruments, and review liturgical music all while working together in ensemble. Performing music in an ensemble setting demands discipline, teamwork, and social-emotional skills, all critical aspects of success in our modern world, and central to building and maintaining our fellowship in Christ.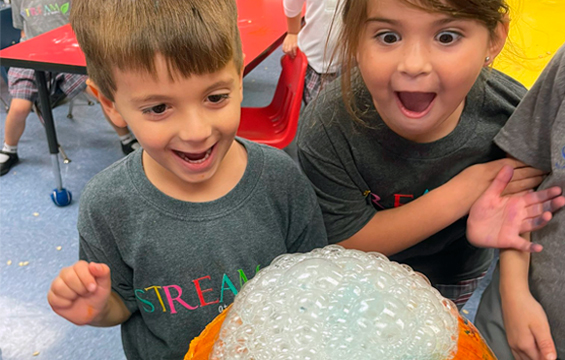 STREAM Model
Preschools that provide best practices offer STEM/STEAM activities on a regular basis and develop critical thinking skills. Young children will focus on STEAM through exploration, play, and building curiosity about the natural world and the way things work. STEAM learning can happen anytime, anywhere and make everyone better problem-solvers and learners. By adding Religion, we enhance our commitment to providing a quality Catholic education, honoring God through faith, study, and love. We will lay the foundation, in these early years, which will lead them to walk in the footsteps of Jesus.
Daily STREAM activities are embedded into our curriculum and are reflected throughout the daily routine. Science experiences will provide opportunities for exploration, observations, discovering similarities and differences, describing animals, plants and other natural processes where children are able to provide explanations for processes they observe and use tools to further their exploration.
"Effective uses of Technology and media are active, hands-on, engaging and empowering give the child control provide adaptive scaffolds to help children progress in skills development at their individual rates and are used as one of many options to support children's learning." (NAEYC & Fred & Rogers Center Position Statement on Technology) Students will explore early Engineering skills through daily play in the block area, building models, trying out new ideas, and designing structures. Art will focus on process vs. product will be open-ended and will allow students to pick the media thus, encouraging and respecting individual creativity.
Daily Math activities and projects will provide children with opportunities for sorting, counting, classification, and ordering. Religion​ is at the heart of everything STREAM and will strengthen children's faith by honoring God through all they do.
At the core of the STREAM model students are engaged in hands-on experiences that promote inquiry, communication, and critical thinking supported by Teachers that use best practice to scaffold their learning in the context of a loving and nurturing environment where children feel safe and confident to explore and express themselves.
Fact: Schools with installed gardens see an average increase of 12-15% in students' standardized test pass rates with science often having the largest gains.
Special Areas
Students learn to create and express themselves through art, music, world language, physical education, technology and media.
Weekly Art instruction for all students in PK3 – 8th grades.
Weekly Music instruction for all students in PK4-8th grades.
Students in PK2 – Kindergarten engage in outdoor activities throughout the day to promote the development of gross motor skills, hand-eye coordination, and understanding of spatial boundaries.
Students in PK4 – 8th grades participate in weekly Physical Education and have daily time for physical fitness activities.
Spanish is infused through music and prayers for students in PK2 – PK4.
Students in PK4 – 8th grades participate in Spanish classes.
Students visit the Media Center as a group and also are encouraged to check out books during Open Library times throughout the week.
Technology skills are taught in a lab setting to support classroom instruction on a weekly basis.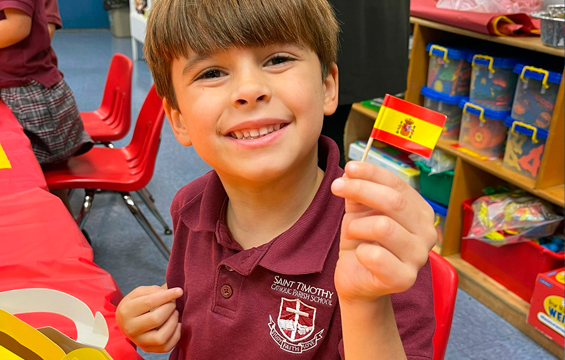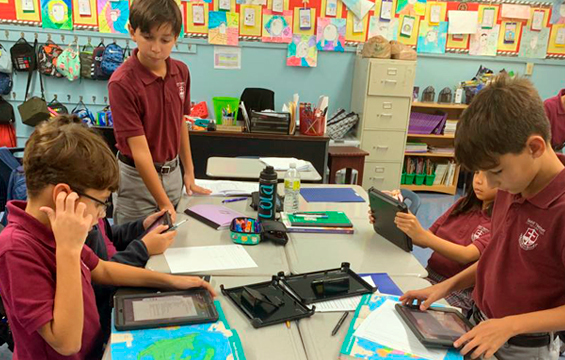 Technology
Technology is constantly changing and in response to this, Saint Timothy promotes adaptability in regard to technology implementation and usage. To this end, multiple platforms are incorporated to provide real hands-on experiences for the students throughout their years at Saint Timothy. Interactive boards, iPads, stand-alone computers, laptops, cameras, and production equipment merge to provide a diverse platform supporting digital citizenship.
Our goal is to provide "curriculum and instruction for 21st century learning, preparing students to become expert users of technology, able to create, publish, and critique digital products that reflect their understanding of the content and their technological skills" (Catholic School Standard 7.4).
Class set of iPads in PK4-2nd grade
One to one iPad program for 3rd - 8th grade
Mac Lab
Broadcasting studio
Extra curricular Activities
Students participate in a number of activities that promote creativity, self-expression, service, and leadership. Co-curricular and extra-curricular activities provide opportunities outside the classroom for students to further identify and develop their gifts and talents and to enhance their creative, aesthetic, social/emotional, physical, and spiritual capabilities (Catholic School Standards 9.3)
Morning News Team (Broadcasting Studio)
Yearbook Club (Digital production)
Student Council
National Junior Honor Society
STARS Mission Club
Liturgical Ministries

Trojan Choir, 3rd – 5th grades
Schola Choir, 6th – 8th grades
Ministers of Hospitality
Lectors
Altar Servers