Home and School Association
We want all new families to feel at home in our community.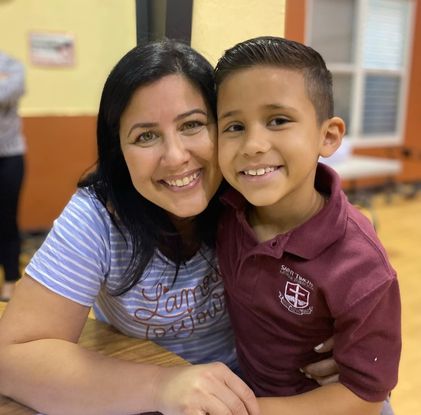 Our goal is that their first connection is a lasting connection!
The parents of St. Timothy Catholic Parish School join with the faculty, administration, and Parish to support the school and to continue the tradition of quality, affordable Catholic education.
The Association assists the school and parish community in attaining their stated mission, philosophy, and vision:
By raising funds to help keep the school affordable
By volunteering to support the health and vitality of the school
By developing Christian community and positive relationships among parents, students, faculty and staff, and Parish

INVOLVEMENT OPPORTUNITIES
Parent involvement is an integral part to the success of all our students. All registered school families donate their time and talents through the volunteer opportunities. This provides a service to the school while offering the families continued opportunities for community building and faith formation.

PARTNERS SERIES
Raising children in the values, morals, and principles of the Catholic faith is no easy task. The Home & School Association is hosting a Parent Partners series. Topics will focus on specific needs by age and include developing self-esteem, growing in the faith, internet safety, and early literacy. All school families are invited to join and grow with us on this journey.

BUDDIES PROGRAM
The Parent Buddies Program matches volunteer host parents with new families in Grades PK2-8 so they can get better acclimated to Saint Timothy. If you are part of a new family and would like to have a Parent Buddy assigned to you, or if you are part of an existing STCPS family and would like to be a host Parent Buddy, please email office@sttimothymiami.org.

FINGERPRINTING
To schedule an appointment and register go to fieldprintflorida.com and follow the instructions. When you are asked for the reason why you need to be fingerprinted, click "I know my fieldprint code". Your Fieldprint Code is: FPAOMSchoolVol. Applicant must present two (2) valid forms of identification:
Identification Documents Exeples

Valid State Driver's License or Valid State Identification Card
US Passport or Foreign Passport
Social Security Card
Credit Card
Utility Bill

For more examples, the list is provided on the appointment confirmation page
Fieldprint Customer Service
For any issues or questions, kindly contact the Fieldprint customer service team at (800) 799-1067 or at customerservice@fieldprint.com.

LUNCH PROGRAM
NOURISHING THE BODY
Students may bring lunch from home or purchase lunch at school. The school provides a hot lunch program through contracted services with COLE Catering. COLE publishes a monthly menu with their daily selection. Students may chose from the daily special, alternate hot selections, sandwiches, or salad.
COLE Catering implements a POS system and asks parents to create an online account which allows parents to deposit money into a child's lunch account, check available balances, and track purchases.

Virtus Training
If you are an employee or volunteer of Saint Timothy Parish School, and have not complete the VIRTUS Workshop.
Please complete the following steps:

Go to "First time registrant" on the left side
Begin the registration process
Select Miami, FL
Complete the registration process by creating a user name and password and following the steps as you continue
Attend the selected workshop
Ongoing education is required to keep certification current
Once you complete the workshop, you will receive an email notifying you of the completion of the program.
Then do the following:

Login using your User ID and Password.
Click on the bar Training
You will find the link that reads Training Compliance
Click on the link that reads Training Report
You will then find a listing of the VIRTUS workshop you attended along
with any other training bulletings you completed
Print that page and return it to the school
VOLUNTEER REQUIREMENTS
from the Office of Safe Environment
The Archdiocese of Miami, as part of the United States Catholic Conference, is committed to providing safe environments for those who need protection the most, our children and our vulnerable adults.
All clergy, religious, employees, and adult volunteers (e.g., liturgical ministers, youth group leaders, etc.) in the parishes, schools and other entities of the Archdiocese of Miami must fulfill the following safe environment requirements:
1. Successfully pass a national criminal background screening,
2. Attend VIRTUS training online and maintain current status,
To guard the safety of Vulnerable Persons under the care of the Archdiocese, all Church Personnel, ages 18 and older, will be required to submit a completed Criminal Background Check Form as well as a complete set of fingerprints so as to facilitate a criminal background investigation.
Eligibility for employment, volunteer work, or ministry will be contingent and conditioned upon a satisfactory background investigation. This background investigation will be updated every five years. This policy applies even if an individual has been cleared through an FBI or FDLE check conducted by their employer or another entity.
Training continues in the form of monthly online bulletins. This is required reading. An active and up to date Virtus account is required for compliance and eligibility to serve. There is no cost to the individual for any of these requirements.
The Safe Environment Policy above applies to all adults who come in contact with the children, including, but not limited to: room parents, coaches, sports moms, classroom volunteers, adults attending in-house field trips, chaperones, etc. All adults must have a completed volunteer file with the school administration, including fingerprint clearance and VIRTUS training compliance.