Pk2-Pk3
Sister Carolyn Learning Center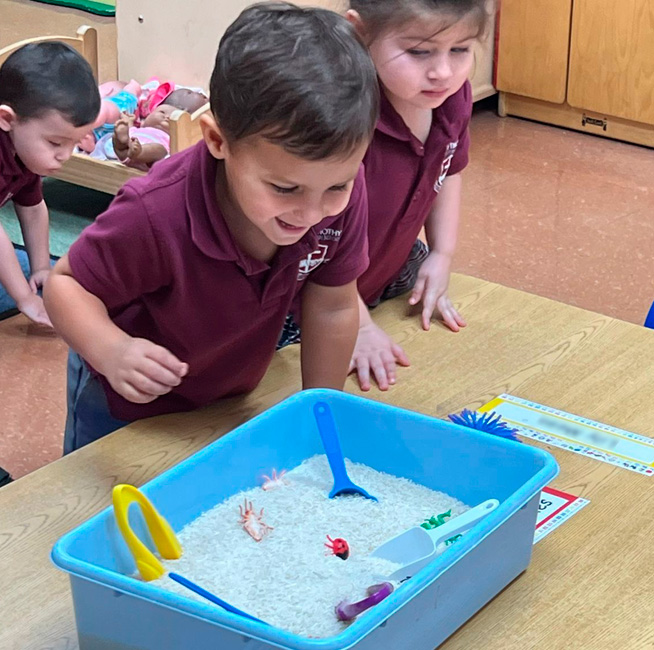 Our Program
Our Pre-K2 and Pre-K3 program follow the Catholic Schools Standards and the guidelines and regulations established by the Department of Children and Families. As a learning center Accredited by the Florida Catholic Conference and licensed by DCF, each group is staffed with a Teacher and an Aide and minimum ratios are not only met but exceeded in our efforts to provide quality individualized education.
The program's structure supports faith and consists of daily routines that offer faith experiences, balance passive and active learning experiences, meaningful environments and a curriculum that is designed to promote early literacy, inquiry-based learning, scientific and mathematical thinking, social/emotional development, family engagement opportunities and is aligned with our mission of providing a quality Catholic education.
Through the use of on-going assessments, learning experiences are designed and modified to meet the individual needs of every student we serve.
DCF License #: C11MD0193
Curriculum

A quality early childhood curriculum that is implemented by experienced and nurturing teachers who carefully plan the learning environment, design a daily routine that fosters a sense of security and predictability and provide developmentally appropriate learning opportunities while embedding the love for Christ, lays the foundation for future academic success and a lifelong love of learning.
The Learning Environment

Learning environments are carefully planned to ensure safety with inviting age-appropriate materials that are accessible and spark children's curiosity while providing opportunities for creation and exploration to extend learning in authentic ways, enhancing collaboration, communication, and critical thinking and honoring God in all they learn, do and say.
Developmentally Appropriate Opportunities

Developmentally appropriate learning experiences are incorporated throughout the day during circle time, centers, outdoor play time, cooking and meal times, transitions and any other opportunities where children and teachers are engaged and exploring together.

Teachers will ask open-ended questions that begin with "What" in order to start conversations. "What" questions focus on what is happening, what you are noticing and what you are doing. These opportunities give children the confidence to share their thoughts & ideas.
Experienced Teachers

Our experienced teachers promote an environment where children feel respected and able to express their thoughts and creativity. They provide support to help children apply concepts to their everyday life by encouraging exploration, reasoning, observation and provide the scaffolding they need to link concepts across activities, evaluate their ideas and conclusions.